Most of Puna's roads and infrastructure are in the hands of our community associations. Associations are the foundation of our community and deserve more support and more resources. I am so pleased that Hawai'i Island United Way, the County, and other generous sponsors are setting precedence for productive and effective solutions for our associations to operate smoothly and better serve residents.
Puna Homeowners Associations board officers, directors, staff, and residents please come to this free conference to improve your skills in member relations, association leadership, and meeting management. There will be three concurrent sessions on Board Success and Meeting Success.
Board Success sessions will include: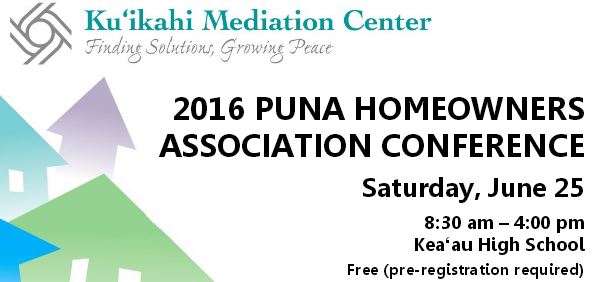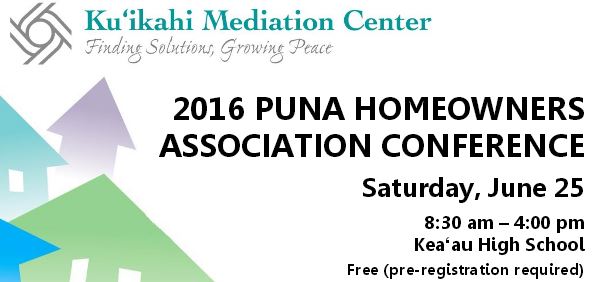 "By-Laws" with Vaughn Cook
"Best Board Practices" with Julie Hugo
"Transparency" with a panel moderated by Jon Henricks.
Meeting Success sessions will include:
"Ground Rules" with Lorraine Mendoza
Lucille Chung and Kimberly Dark
"Parliamentary Procedures" with Jon Henricks
"Meeting Facilitation" with Kimberly Dark
When: Saturday, June 25th
Time: 8:30am-4:00pm
Where: Keaau High School
While FREE, pre-registration is required and includes lunch.  For online registration, visit www.hawaiimediation.org/events.html.  Contact Jenifer at 935-7844 x 1 or jenifer@hawaiimediation.org for assistance.